What is your question about?
Level of cover
Electric vehicle batteries, including batteries leased on a separate basis from the car, are covered under the terms of the policy for Accidental Damage, Fire or Theft.
Unfortunately, we're unable to offer this on our policies.

This is sometimes referred to as 'Class 3 Business use'. It would allow you to travel to one or more places of work, covers the transportation of people in connection with your business and also covers commercial travelling and soliciting for orders.
You'll have Fully Comprehensive cover while driving your car in the EU.
Policyholders may have third party only cover for driving other cars, check your certificate of motor insurance in your account. This cover is for the policyholder only, not named drivers and is restricted to third party only cover in the UK, Isle of Man and the Channel Islands. The loss or damage to the vehicle you're driving isn't covered. Refer to your Document of Insurance for further information.
Yes, but only modifications/enhancements that have adapted the vehicle to support a customer with a disability.

If the vehicle has any other changes to the standard specification (Not including optional extras added at manufacturing stage) then unfortunately we are unable to insure it.
Yes, you can drive abroad on your Flow policy.

You'll have the same level of cover you have in the territorial limits (Fully Comprehensive) while you're travelling in EU countries and any other country that follows the EU rules, as long as your car isn't abroad for more than 180 days during your period of cover. Your car needs to be registered and usually kept in Great Britain.

You no longer need to carry a green card if you're driving within EU countries or those that follow EU Directives.
Claim
Yes, don't worry - with Flow car insurance you're covered for putting the wrong fuel in your vehicle. We pay to drain and flush your fuel tank, as well as cover the damage to the car's engine*

*You may have to pay an accidental damage excess - we'll tell you how much that is when you phone to make a claim.
If you have breakdown cover with your Flow Annual car insurance, we'll be there for you 24/7, just give us a call using the number below.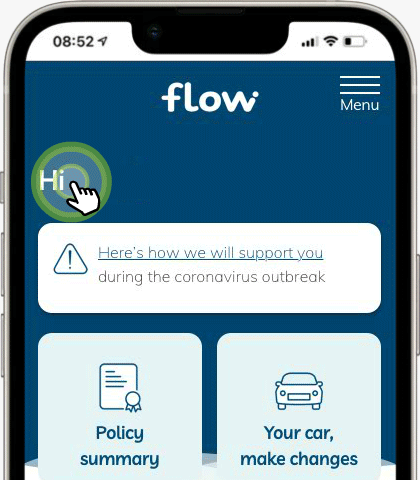 Calls will be recorded. For Text Phone, first dial 18001.
If you need a hand, head to our helpful how-to guides or look for answers to all the most common queries in our Flow FAQs.

Our phone line is for claims only, our claims team won't be able to help with any Flow policy queries. You can do everything else online in your Flow Account, it's quick and easy.
Yes, with Flow Annual insurance (or with the monthly optional add-on) you'll recieve a 3 door hatchback while your car is being repaired.

If your car is written off or stolen and not recovered, you'll receive one for 21 days, or 4 days from the date the claim payout is made (whichever is sooner).
Yes. We require information regarding a driver's complete claims history, although this will not be taken into consideration on your policy until the next renewal.

If you don't keep your claims information up to date, this could result in your policy being cancelled.
You'll have 60 days from the date the write off is confirmed to decide whether to transfer your cover to a different car. If you don't want to transfer your cover, you'll need to cancel your policy otherwise the cover and any payments will continue. If you're in a hire car when your policy ends, you'll need to give the hire car back.
New Car Replacement is included as standard on your Flow Annual policy. We'll look to replace your car with a new one if it's involved in a claim and written off, providing the car is less than a year old and you or your partner are the first and only registered keeper.
The replacement vehicle will be of the same or similar specification. You'll find all the details in your document of insurance in your account.
Optional Extras
Motor legal expenses gives you up to £100,000 to pursue another party for any uninsured losses you've sustained in an accident that wasn't your fault. It also provides cover in the event of a motor prosecution and / or a court case resulting from an incident or claim. Things like loss of earnings or a policy excess are considered uninsured losses. For cover to be applied there needs to be more than a 50% chance of successfully recovering your uninsured losses. There is no excess to pay when making a claim under MLE.
We offer a range of optional extras to enhance your car insurance:
Family package: covers your in car equipment, journey continuation and child car seats
Protected NCD - option to protect your no claim discount for the life of your policy
Breakdown cover from LV= Britannia Rescue. You can choose from our 3 levels of cover
Find out more about our optional extras.
Motor Legal Expenses comes as standard with your Flow annual policy so you don't have to worry about paying for it as an additional add-on.
No Claim Discount (NCD)
Protected no claim discount is an optional extra you can add to your car insurance policy. It means that any NCD you've built up is protected - no matter how many claims you make. Your premium may still be affected if you make a claim.

To qualify for this optional extra, you need to have earned four or more years NCD. If you wish to add protected NCD cover to an existing policy, you can do this in your online account but you cannot add it if you've had a claim that would impact your NCD.
Documents
As the UK is now part of the Green Card Free Circulation area, you no longer need to carry a green card if you're driving within EU countries or those that follow EU Directives.

Green Cards will not be issued as part of this policy.

The same rules apply if you're towing a caravan/trailer.
You can find exclusions to your Flow policy on your Document of Insurance, which you'll find in the Documents or Policy Summary pages in My Account.
You'll find your Certificate of Motor Insurance in your Flow
online account
. Once you've logged in, select 'Documents' and you'll see it in your Welcome Pack.
You no longer need a green card to drive your car in the EU or countries that follow EU rules, but we recommend taking your certificate of motor insurance with you.
Admin
We have 7 days in which to update the MID with your policy details. This includes new policies sold and policies cancelled.

However, we usually have the records updated within 1-2 days (subject to the date/time of the change).

If you've insured your vehicle, and have received your certificate of insurance and personal details confirmation, then you're insured until the record can be updated.
If you've SORN your vehicle, you have a few options. You can either cancel the policy, or leave your policy in force if you need fire and theft cover but you'd be paying for cover that you're not using.

If you've declared your car as being off road, you can't drive it until the vehicle is re-taxed and declared as being back on the road.
If your licence is revoked, you'll need to log in to your account and edit your details.

You'll no longer be able to drive the insured car and will need to either be removed from the policy or if you're the policyholder, unfortunately the policy will need to be cancelled.

If your licence has expired and you're insured with us, you're still insured with us, but you'll need to visit gov.uk/view-driving-licence to renew your licence immediately.
Your quote is valid until the start date you chose when you entered your details (as long as the information on the quote stays the same). It's worth knowing that changing the start date of the policy from the one on your initial quote can also change the price of your policy.

You can view your saved quotes in your account at any time, but you won't be able to buy them once they've expired. If you want a valid up-to-date quote, simply start a new one.
You can get a quote 7 days before you need the change to be applied.
If your policy has been cancelled, you'll need to go to your online account and set up a new policy with us. If your policy was cancelled due to any outstanding payments, any outstanding balances will need to be paid for before a new policy can be set up. Your account will already have your details, so you won't need to enter all your information again to get your new quote.
General queries
A car insurance excess is the amount you have to pay out yourself if you make a claim. There are two types of excess:
Compulsory excess - this is a fixed excess, set by us, which you'll have to pay if you make a claim. The amount varies depending on your circumstances
Voluntary excess - this is the amount that you agree to pay, in addition to your compulsory excess, if you make a claim. People agree to a voluntary excess in return for a lower premium.
Please check your insurance documents for confirmation of your payable excess.

For example, if we've set a compulsory excess of £250 and you choose a voluntary excess of £100, the total excess you will need to pay in the event of a claim would be £350.
Yes, with Flow Annual car insurance, you can cover a car that's previously been written off as either a Category S (Cat S) or a Category N (Cat N), provided it's roadworthy and has an MOT, if applicable.
So, what's the difference between Cat S and Cat N?
Cat S means the car has sustained damage to any part of the structural frame or chassis which requires realignment to its original dimensions or replacement of these parts. A minor, localised repair on a panel that's been identified as structural, wouldn't necessarily be considered realignment of a structural panel.
Cat N means the car hasn't sustained damage to the structural frame and doesn't need its chassis replaced or realigned to original dimensions. There may still be some safety critical items that need replacing, such as steering and suspension parts.
Yes. Please make sure the correct legal owner (who has a financial interest in the vehicle) is also captured e.g: lease company/company car/policyholder.
Unfortunately, this isn't possible at the moment but we're doing our best to be able to quote for these areas in the future.
Unless you've been disqualified from driving, this won't affect your policy until your next renewal.

If you've provided your Driving Licence number, there's no need to inform us.

If you've self declared your licence history, you need to log in to your account and update your details with the conviction/endorsement. You'll need to enter the date of the conviction and the conviction code, which you'll find at https://www.gov.uk/view-driving-licence

If you've been disqualified from driving, the policy will need to be cancelled. You can do this in your account.

If one of your named drivers has been disqualified from driving, please make arrangements to remove them from the policy in your account.
Unfortunately, we're not able to insure you if you have a provisional licence... but we'll be here waiting for you when you pass your test!
We ask that your vehicle is in a roadworthy condition. We may ask to examine your car, send us evidence of a valid MOT (if one is needed) and/or proof your car is regularly maintained and kept in a road legal condition.