If you've been involved in a car incident, the most important thing is that you're okay. So, make sure you're safe before getting in touch - your claim doesn't have to be reported immediately if you don't feel safe or comfortable.

If another person or vehicle was involved:

Exchange details including names and addresses, phone numbers, registration numbers, makes and model


If someone's injured, call the emergency services immediately

Avoid discussing who was to blame, even if you think it's obvious
To help us handle your claim quickly, make a note of:

Date, time, and location

What led to the incident


Names and contact details of any witnesses and/or police

Any injuries caused to anyone involved
It may help to provide photographs taken at the scene or details of any CCTV cameras covering the area.

When to call the police:

If the other driver doesn't have insurance, flees the scene or refuses to provide their details

If you think they caused the damage on purpose or could be under the influence of alcohol or drugs
If you need to speak to us urgently, we'll be there for you 24/7.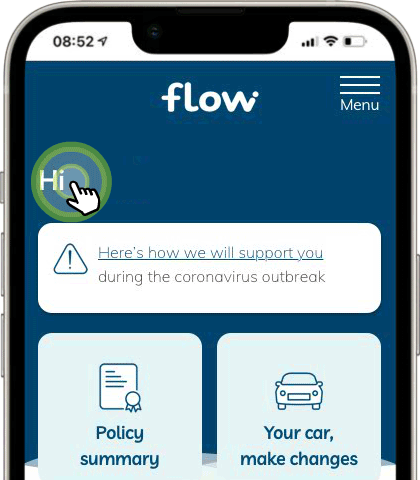 Calls will be recorded. For Text Phone, first dial 18001.
Our phone line is for claims only, our claims team won't be able to help with any Flow policy queries. You can do everything else online in your Flow Account, it's quick and easy.