Have you ever wondered what the most popular Great British road trips are?
We asked 1,000 drivers about their favourite UK road trip and what made it so good for those that answered here's what they had to say...

With breath-taking views and stunning coastline as far as the eye can see, perhaps you fancy exploring the UK by road.

Wherever you decide to go on your adventure, remember to plan ahead. Book accommodation, check government advice on whether it's safe to travel, make sure any attractions you want to visit are open and get your car in shape for the journey with our car maintenance tips. Of course, you'll also need to make sure you have car insurance and breakdown cover that's right for you.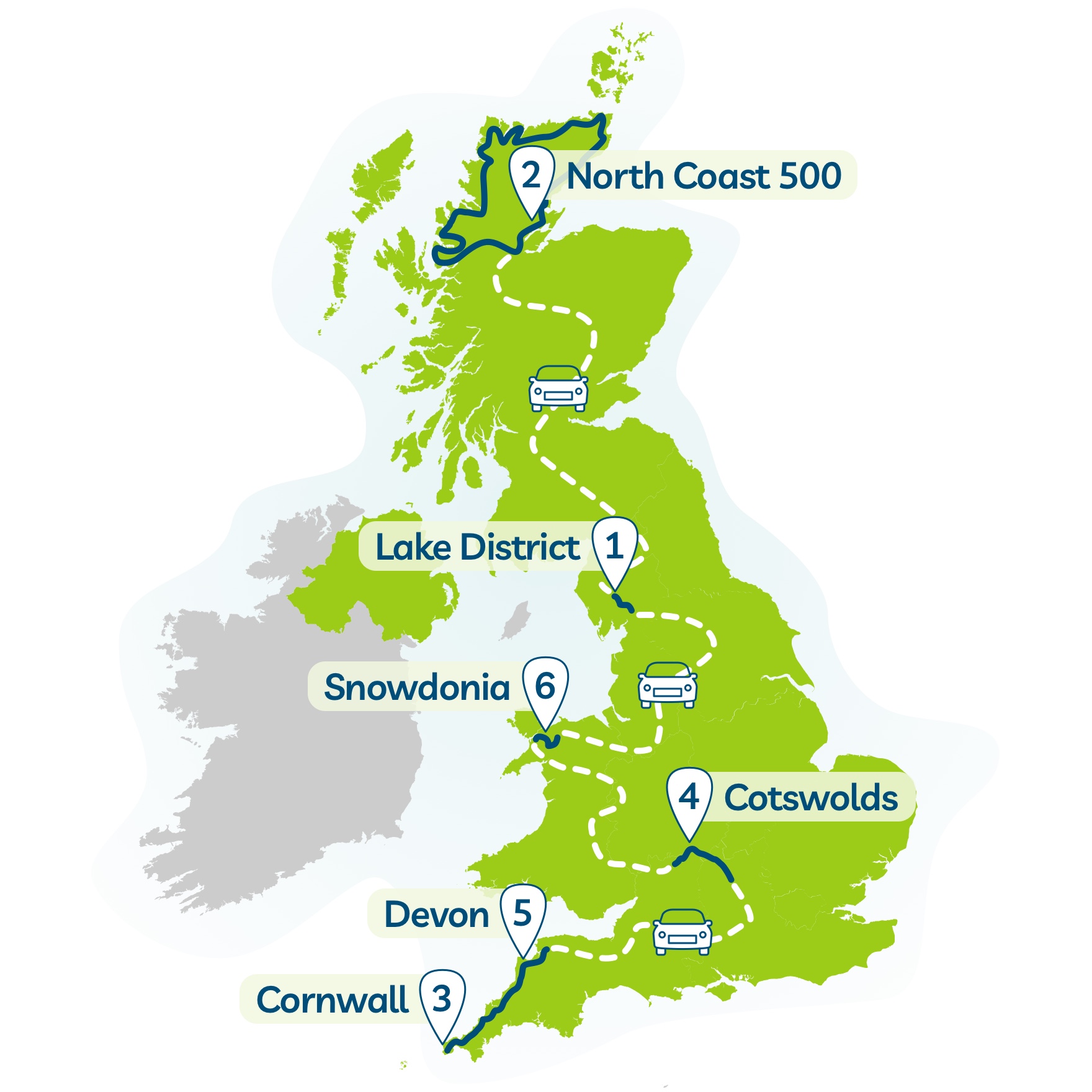 6. Snowdonia
One of our personal favourites here at Flow and 2% of drivers in our survey, it's perhaps surprising to find five more popular destinations for a road trip on our list. Maybe there are just too many great roads in Wales to count the stunning Snowdonia National Park on its own, 3% of drivers also loved the Welsh roads. With scenery that could make your jaw drop, it's like stepping into another world as you pass Swallow Falls and head west. You'll be forgiven for thinking you're in The Lord of The Rings as the mighty Mount Snowdon looms into view along the A4086… and fighting the urge to explore the mountain itself may plunge you into a losing battle.

5. Devon
When we close our eyes and think of Devon, we dream of beautiful beaches for miles and miles. But that's not all Devon has to offer, which is why 3% of drivers voted specifically for Devon. Many described the beautiful views and lovely drives, while some made note of the gorgeous countryside, idyllic scenery and quiet roads. With mention of non-stop natural beauty, open moorland, ponies and wildlife, it sounds perfect for a family getaway. Devon to Cornwall road trips have long been regarded a must in the South West of England and we hear there's a particularly appealing patch of the so-called "Atlantic Highway" along the A39 between Barnstaple and Newquay.
4. Cotswolds
Described as "one of the most beautiful, picturesque and wonderful parts of England," the Cotswolds is basically a living, breathing postcard of perfectly-preserved traditional English villages. Imagine pubs straight out of a classic novel and quaint little market towns with high streets pulled from historical re-enactments. Think medieval churches and iconic winding country lanes lined with walls made from local stone. The third largest protected landscape in England, the region runs through six counties from the Severn valley in the West Midlands all the way to Bath in the south. Famous for its rolling fields and flowery meadows, no wonder it's the UK's largest Area of Outstanding Natural Beauty. Neck and neck with Devon, with another 3% of drivers choosing the Cotswolds beauty.
3. Cornwall
Devon to Cornwall or Cornwall to Devon? It's a bit like asking what to spread first on your scone, jam or clotted cream (in case you're wondering, it's cream first in Devon and jam first in Cornwall). Anyway, we're back on the road between Somerset and Cornwall where the near-constant ocean views earned this stunning stretch of the A39 from Barnstaple to Fraddon its title: the Atlantic Highway. Soak up the picture-perfect places overflowing with Cornish charm from Bude to Boscastle, and Tintagel to Padstow. And if you haven't had your fill of seafood or surf, you can keep on going from Newquay all the way to Land's End. With so much on offer this is why 5% of drivers in our survey chose Cornwall as their top destination for a UK road trip.
2. Lake District
We're already jealous at the thought of this one and hear "there are so many beautiful places to visit, without too much travelling!" We recommend you start in Kendal, which is 'proper mint' and drive through the awe-inspiring, picturesque scenery north, to the biggest lake - Windermere. Continue into Wordsworth country through Grasmere and Ambleside, passing steam trains and daffodils, and hop off at Near Sawrey to pay homage to Peter Rabbit at Beatrix Potter's Hill Top Farm. We recommend taking three days for this unforgettable adventure, leaving you time to enjoy some of the scenic walks. 9% of drivers voted for the Lake District, only means one thing, it's not one to miss.
For those of you driving electric, there are charging ports across the park and beyond so don't let that stop you venturing out to this incredible destination. And for anyone thinking about making the switch, we've done some of the research for you in terms of how much electric cars can cost to buy and run. We've even put together an electric car guide to help match you with your perfect make and model.
1. North Coast 500
Put Scotland together with '500' and most of us naturally think of the Proclaimers… which coincidentally is the perfect track for this epic route. If, like us, you want to feel like Bond in the closing scenes of Skyfall, then this is the road trip for you. The most Instagrammable route on our list, it starts at Inverness Castle and loops the Highlands taking in Ullapool, John O'Groats, Dornoch and Durness. From surfing and hiking to castles and historic landmarks, there's plenty to see and do in these idyllic towns and villages, which is why 12% of drivers voted for the North Coast 500. Drive past waterfalls, mountain peaks and stop for a bit of monster spotting at Loch Ness itself. You may even be tempted to try Black Isle Brewery's organic craft beer or visit one of the nine whisky distilleries along the way, but remember to nominate a designated driver!
| | |
| --- | --- |
| Snowdonia National Park | 2% |
| Wales | 3% |
| Devon | 3% |
| Cotswolds | 3% |
| Cornwall | 5% |
| Lake District | 9% |
| North Coast 500 (including scotland) | 12% |
| Other UK destinations | 63% |
Some of our 'Other' UK destinations include places like: Anglesey, Bath, Dorset, London, North Shields, Northumberland, Plymouth, and Yorkshire.
So, we've reached the end of our journey. What do you think of the rankings? One thing's for sure, there's no shortage of incredible road trips in the UK.
We've taken you from top to bottom and across Scotland, England and Wales so there's no need to visit the same old places next time you go on a drive. Post a pic, tag us @flowinsuranceuk on Facebook or Instagram and hashtag #GoWithTheFlow and tell us why your favourite staycation drive should be number 1. Whatever tickles your fancy, just make sure you take us along for the ride.